Most marketers largely depend on website analytics, heat maps, click maps, form analysis, and visitor recordings to identify areas of friction and leakage within the conversion funnel.
Admittedly, these tools are great to get valuable information and quantitative data to build hypotheses — however, they only tell part of the story.
The best way to truly understand your customers and finding out what they want is by asking them and hearing it straight from them – firsthand.
According to Hubspot, Voice of the Customer (VoC) is a powerful methodology to get into the customer's mind. You can capture what your customers feel about your website and understand the gap between customer expectations and their purchasing experience using website surveys.
In this guide, you'll learn more about the different types of eCommerce surveys you can run on your website, real examples from some of our customers, and how to create a survey using VWO. Let's get started.
What's in store for you?
Why should every eCommerce business run on-page surveys?
Where on your website should you ask survey questions?
The top 6 types of surveys you should be running right now + examples from real customers
Setting up an on-page survey using VWO
Conclusion
Why should you run on-page surveys?
On-page surveys help you understand your customers' common characteristics, build customer personas, understand their terminology – the exact words and phrases your customers use.
They also uncover insights about what your customers are looking for, how do they prefer to buy, conversion blockers, their emotional psyche, their opinion about your competitors and lots more.
What more? They also serve as a repository of ideas!
Think about it. Hundreds of visitors come to your store, every single day. If you get 50 unique responses from a survey, these responses turn into 50 different test ideas for your website. Out of those 50, even if 10% win, you get 5 solid winners that actively contribute toward scaling your business revenue. It's a win-win situation!
Now, building an excellent survey for your website largely depends on two things:
The probes you present in front of your website visitors
Which page(s) do you prompt your survey
This brings us to our next question – where should you run your survey?
Where on your site should you run surveys?
On-page surveys are exceptional for in-the-moment feedback. Experts suggest that you must run surveys on pages that have a high bounce rate or under-perform in your conversion funnel.
Identify pages that have a high exit rate or are crucial to your business. Curate a list of questions that you need to ask to determine why your visitors are dropping off on these pages.
However, don't limit your surveys to your conversion leaks. You can also ask questions on your post-purchase thank you page to learn from successful conversions. You can use all these insights to build a solid hypothesis for a/b testing ideas on your website.
The Top 6 types of surveys you should be running right now!
(Ready-to-use examples from real customers)
Break the ice
You have access to information such as your customers' IP address, device type, browser, and location. However, other vital details such as your customer's age, gender, profession, what are they looking for on your website, purchase frequency, their opinion on your competitors are slightly challenging to collect.
With on-page surveys, you can ask relevant questions to your customers while they're on your website without being intrusive or disturbing their shopping experience.
Here's how a leading UK based online store selling hair and beauty salon supplies learns more about their customers every day.
These survey questions not only help the brand in understanding the customers better but also make it easier to provide a personalized shopping experience and improve conversions.
Pro tip: Don't hesitate to ask for seemingly personal or controversial questions. However, ensure that the timing is right.
For example, popping your survey immediately after a user has landed on your website may seem overwhelming. Wait for the user to spend more than 15-20 seconds on a page, and then begin your survey. You can also keep certain questions optional to avoid customer hesitation.
Always remember, hindering your customers' shopping experience to know more about them may back-fire. Keep it simple and contextual.
2. Uncover customer psyche
Honestly, the importance of this cannot be stressed enough. Nobody knows what your customers want more than your customers themselves. So the best thing one can do is, ask.
Get inside your customer's mind, wear their shoes and get to know them better by asking the right questions.
Here's how Germany's largest lingerie manufacturers run surveys to provide tailor-made shopping experiences.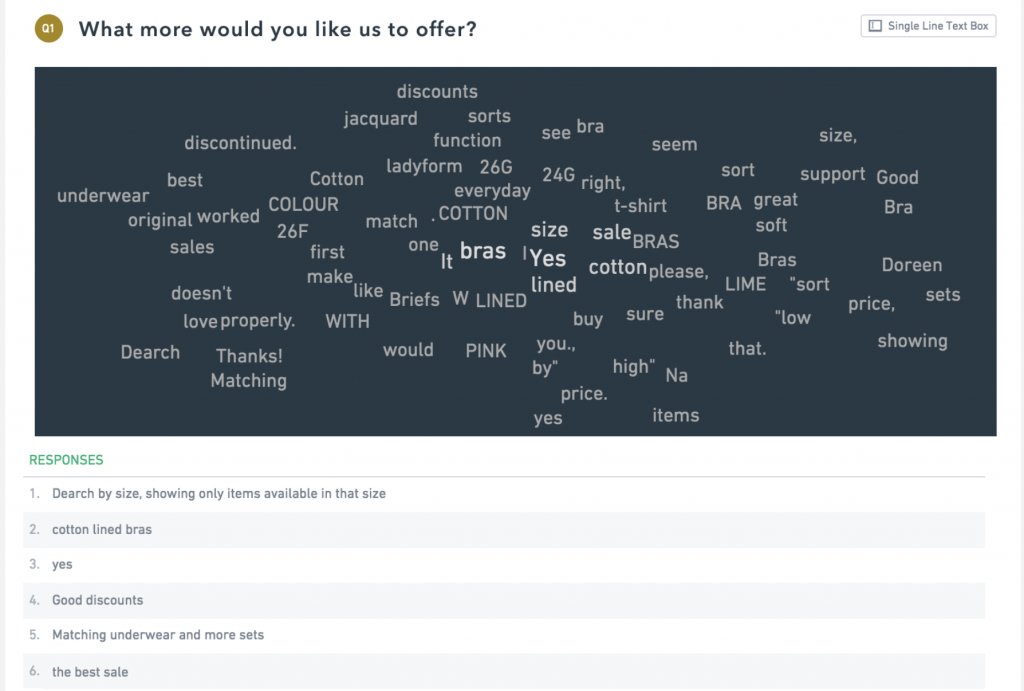 This helps the brand understand customer needs and expectations. They also discover growth opportunities to provide a personalized shopping experience to their customers.
Pro Tip: Be bold and creative. Want to launch a new product collection? Have a unique loyalty program that you wish to run? Get quick feedback from a small group of customers before going all out with guns blazing.
3) Get website feedback straight from the horse's mouth
Getting experts to review your website is brilliant. However, what's better is getting your customers to tell you what they feel about your website. Discover process bottlenecks and conversion roadblocks by gently prompting your customers to share their experiences.
A fast-growing online retailer selling quality and low priced home and fitness products runs this survey to find out what their customers feel about their website.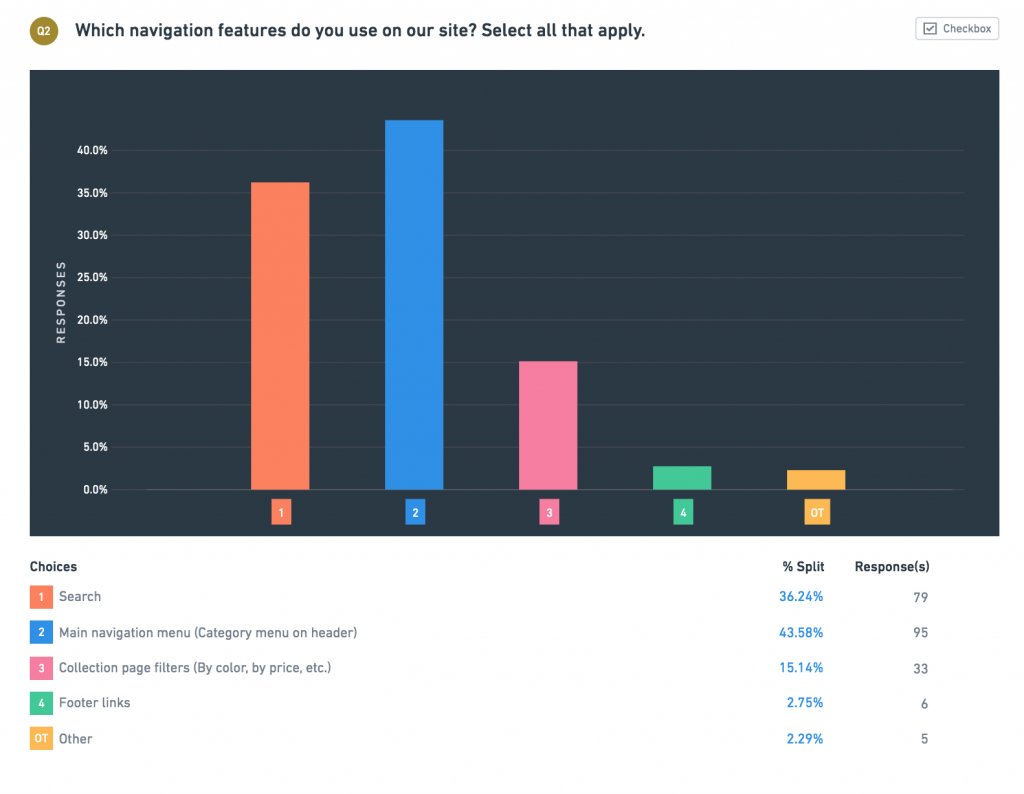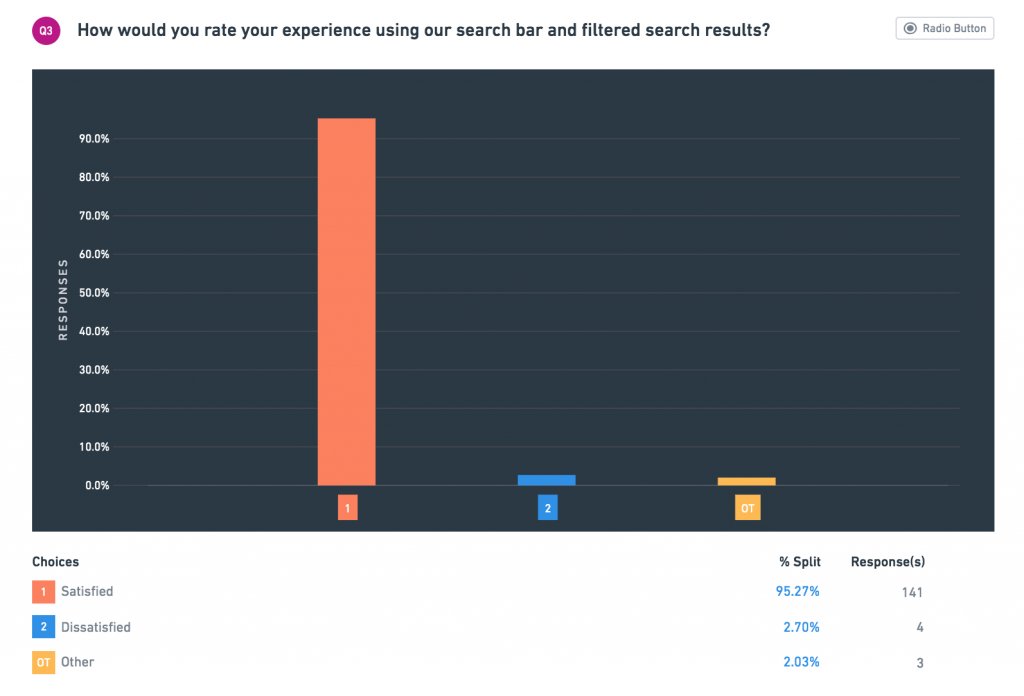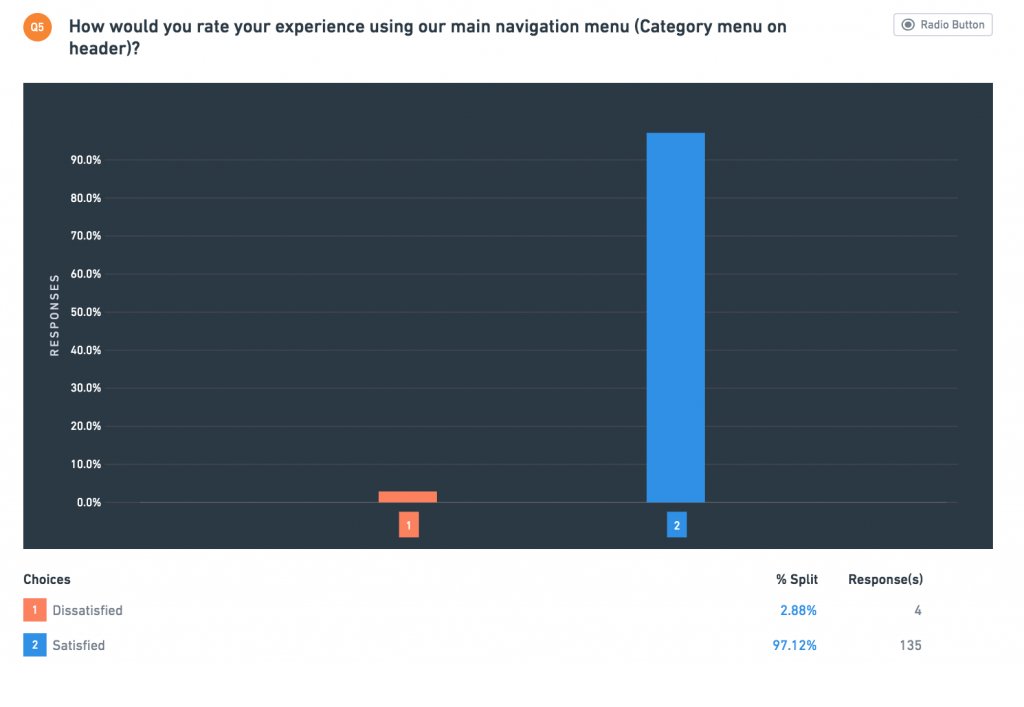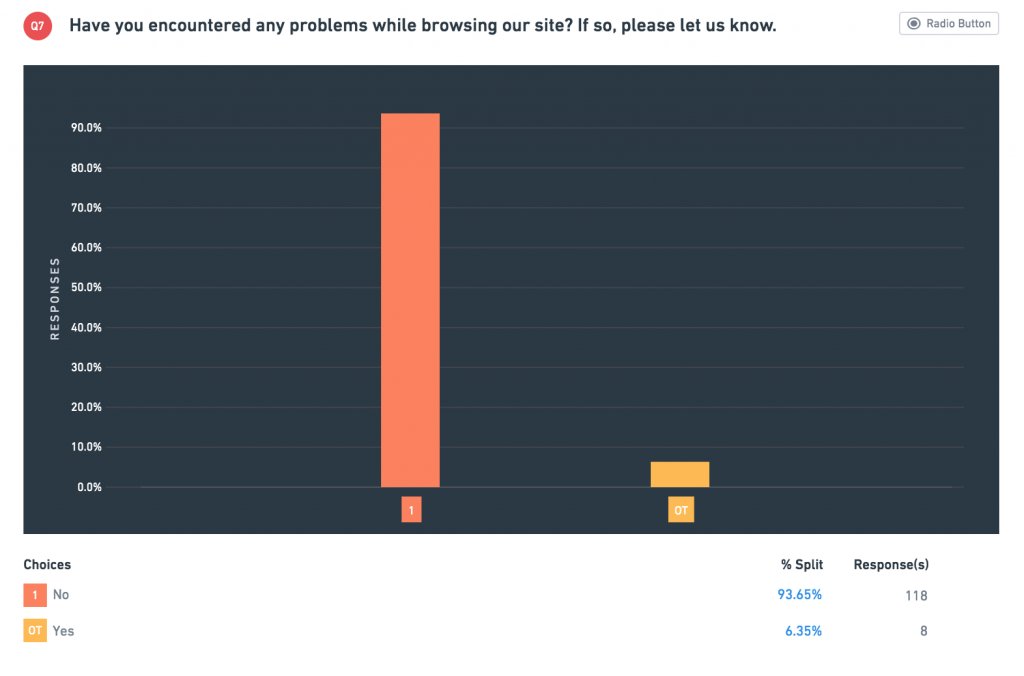 They also identify improvement areas by asking their customers for feedback on the new additions on their website. For instance, they recently launched product videos and wanted to understand if their customers were getting value out of them. Here's the survey they ran.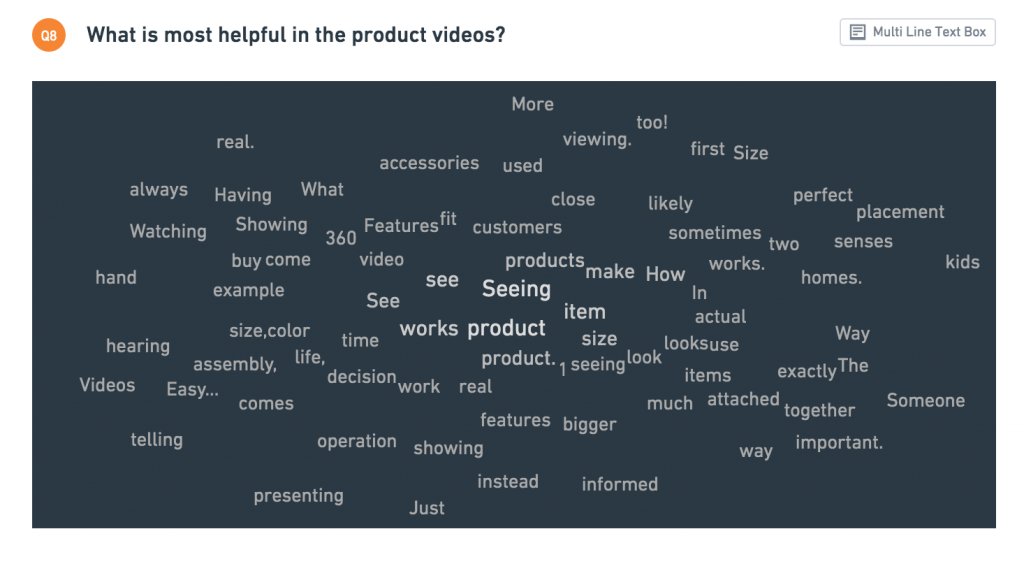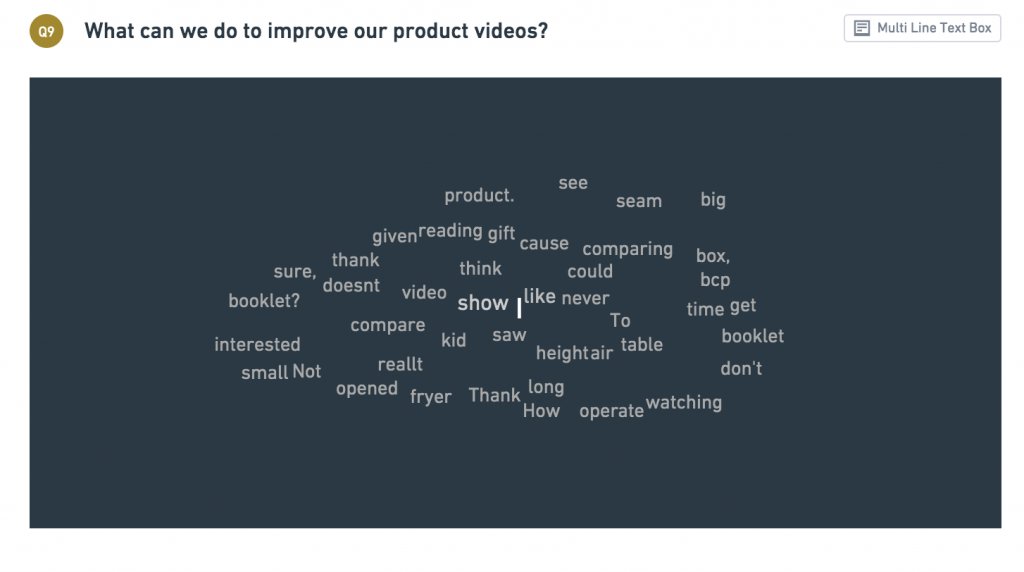 Pro tip: You can also improve your checkout process with customer feedback. Prompt a survey like the one below.
4) Leaving Already? Triggering Exit Intent Surveys
The current average bounce rate for eCommerce websites stands at a staggering 45.65%.
Using Google Analytics, heat maps and click maps gives you an overview of how your visitors are interacting with your website, such as pages they're spending time on, products and elements that they're clicking on, pages with the highest drop-offs, and so on.
However, understanding the 'why' behind their exit – getting qualitative data, the real reason from your visitors, in their own words, isn't possible without exit surveys.
Triggering an exit survey, right when a visitor is about to leave your website is a great way to get insights from your bouncing or non-converting audience; without having to rely on guesswork.
Here's how the biggest pizza chain in the world runs exit surveys.
These insights are a gold mine for marketers!
If done right, the exit survey can be a great feedback tool to reduce bounce rate and improve conversions. Plus, you can run surveys for different audience segments such as web users, mobile users, mobile web users, country-specific, device specific, and lots more.
5) Decoding User Habits and Behavior
Personalization is key to a great online experience. Moreover, nothing beats knowing your customers' habits, preferences, and behavior up close.
Get personal with your customers; make them feel special while concurrently obtaining the feedback that you require.
Here's how the globally renowned lingerie manufacturer from Germany decodes user habits and behavior on their website.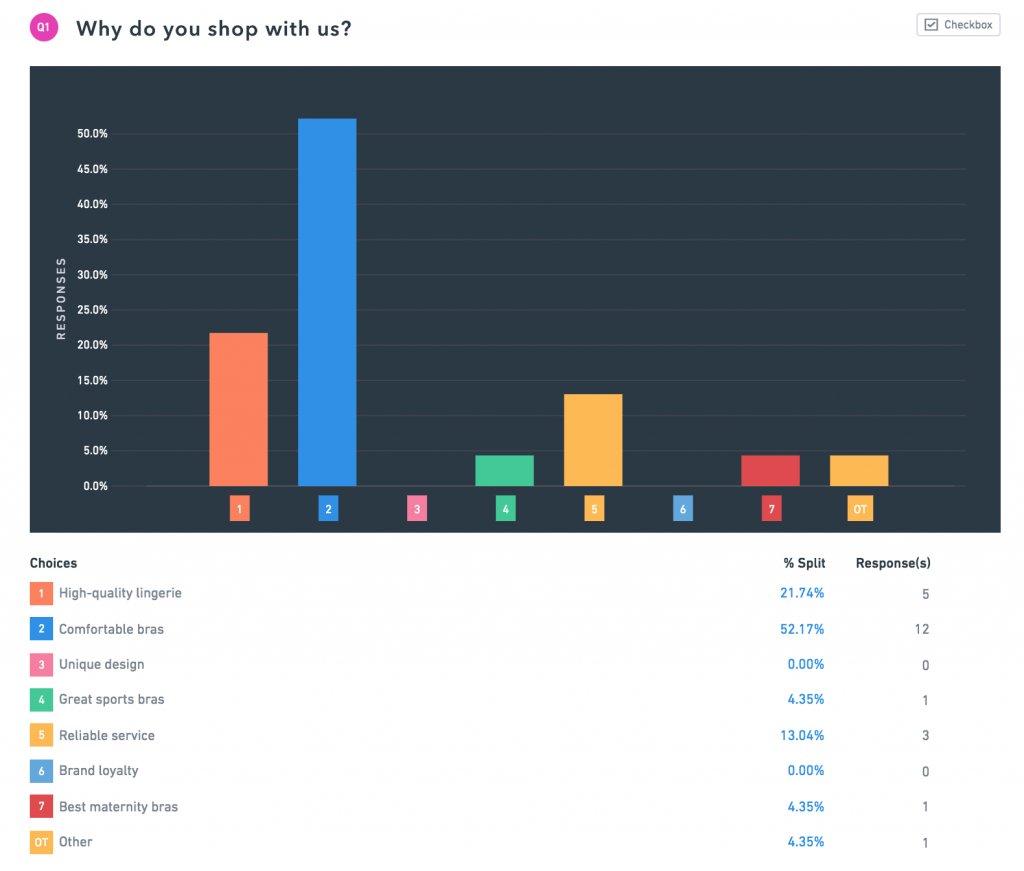 Getting insights about your users' habits and online shopping behavior can be a pathway to endless possibilities! You can drive personalization and drastically improve conversions by running such surveys.
Pro Tip: Here are a few more personal questions that you can ask your customers to know them better:
Which payment methods do you prefer?
How much would you be willing to spend on (insert your brand category/products)
Would trust badges/reviews influence your purchase decision?
Do you prefer shopping on weekdays or weekends?
6) Measuring Customer Happiness with Surveys
Did you know, bad customer experiences are twice as likely to be shared as compared to great customer experiences — thereby making it imperative to identify customer issues and resolve them before they go viral on Reddit, Facebook, Twitter or Yelp.
What your customers think about your brand is essential for the sustainability of your business and is vital throughout the customer lifecycle.
Using feedback surveys can help you identify your brand's Net Promoter Score i.e. your happiest customers who have the potential to become brand advocates and simultaneously boost customer retention.
Here's an excellent example of how the marketing team of this online retailer selling home and fitness products collects feedback from their customers.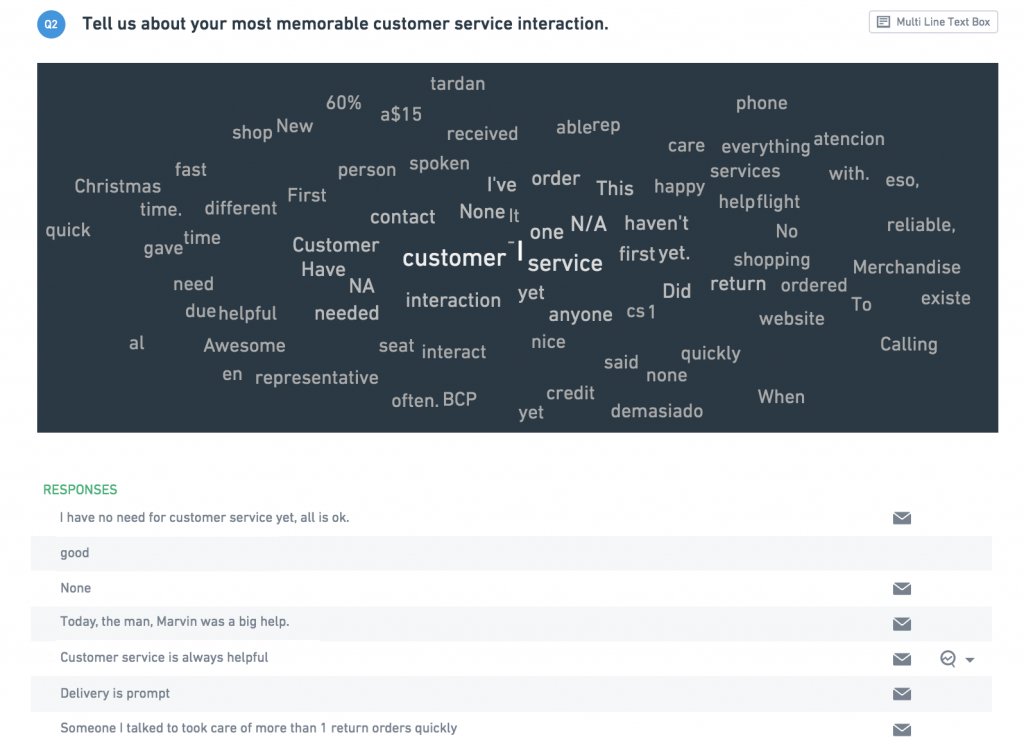 Customer surveys are an excellent resource to get tangible data to make swing-for-the-fences decisions. And the best part is that your decisions aren't based on assumptions or hunches but rather based on real insights about how your customers feel about your eCommerce store.
Here's a 2-minute walk through of how you can create a website survey using VWO.
Creating an on-page survey with VWO
Step 1: Go to Surveys on the dashboard and click on 'New Campaign'.

Step 2: Enter the URLs of the pages and define visitor segments.
Step 3: Define user actions that will trigger the on-page survey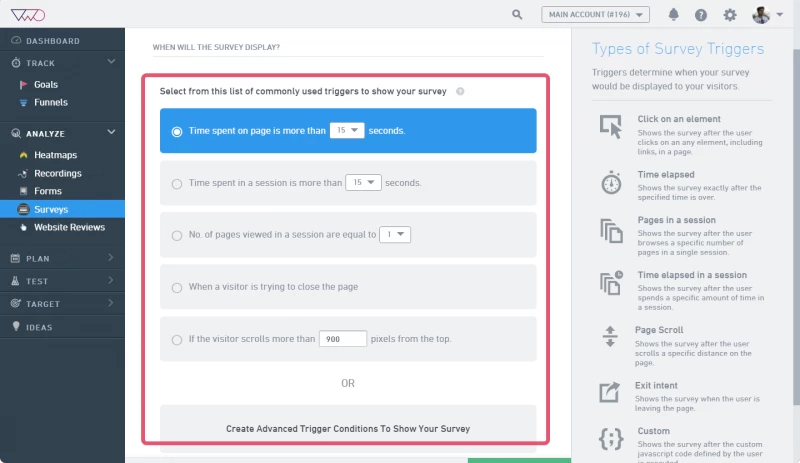 Step 4: Add questions to the survey and choose the type of answers you wish to receive (single-line, drop-down, radio, and so on)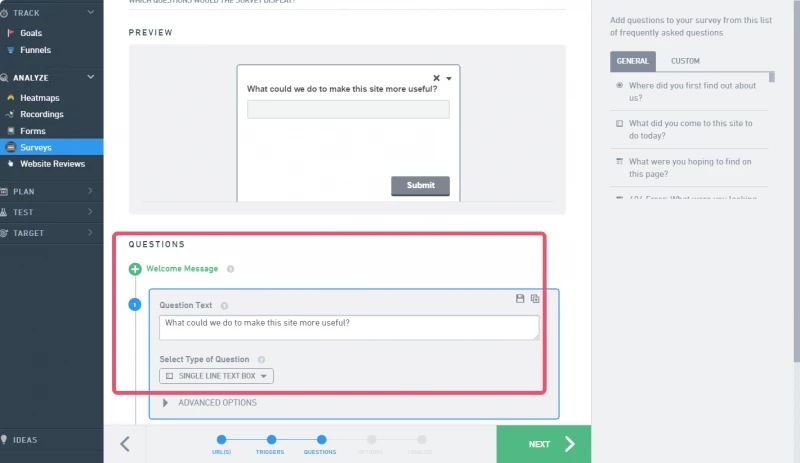 Step 5: Configure the theme for the pop-up survey, use custom branding, define the placement of the survey on the visitor's screen, etc.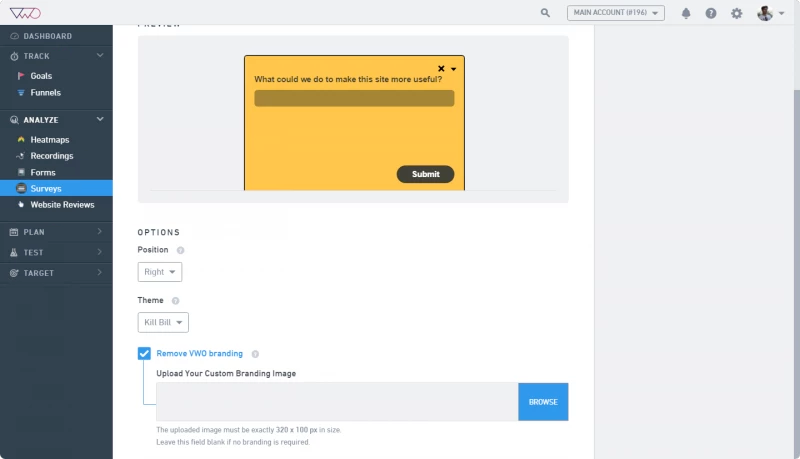 Step 6: Finalizing the survey – name the survey, specify the traffic percentage, and define other additional settings and you're good to go!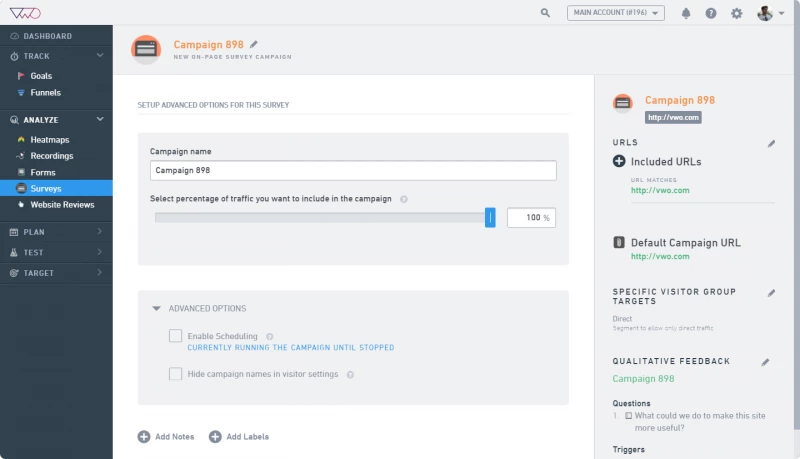 Read the detailed process of creating a survey in this article here.
You can also set up a free website survey using VWO. Request a demo.
Key takeaways
In a nutshell, on-page surveys are incredibly crucial to optimize your conversion funnel. They help you spot roadblocks in the buyer's journey and remove friction from the checkout process, thereby increasing conversions and growing your business.
Here's a quick recap of things to remember while running an on-page survey:
Have a clear goal in mind
Ask the right questions and at the right time.
Ensure that your surveys fit into the bigger picture of your conversion optimization efforts
Surveys are iterative, and every poll – whether it's a success or not – is a learning experience.
Use learnings from every survey to synthesize significant observations and develop more informed experiment ideas.
BONUS

8 Hacks to write excellent survey questions that encourage responses
Keep it simple: Avoid jargon like the plague. Keep your questions to the point and make it simple for your users to understand them. Skip using acronyms — your respondents may not even know what they mean.
Keep it concise: Short surveys (up to 3-4 questions) generally achieve a higher response rate as compared to long surveys. Ensure that all the questions in your survey are focused on meeting your end objective. Avoid adding nice-to-have questions to your survey that doesn't help you get the direct data that you need.
Incentivize your survey: Study suggests that offering monetary incentives increases the response rate by 19.1% and non-monetary rewards boost response rate by 7.9%. Throw in an occasional discount voucher/cashback/loyalty points to encourage respondents to complete the survey. Giving incentives can work exceptionally well if your survey is long or the responses are incredibly crucial or may have a substantial impact on your business.
Avoid asking for too many answers in one question: "Are you happy with our loyalty program and also our new free shipping policy?" Loyalty program and free shipping policy are two separate topics altogether. Asking a double-barrelled question like this may confuse your respondents. They may end up answering only one of the two questions, which can further distill the accuracy of your survey responses. Your best bet is to ask both these questions separately.
Don't ask leading questions: "We love our new loyalty program, do you think it's awesome?" This question seems to convey an opinion that you want your respondents to agree with. Such questions can wrongly influence your respondents into sharing answers that don't reflect how they feel. Be careful of your tone and frame your questions to be neutral.
Allow customers to skip questions: Not every respondent that takes the survey may know or be comfortable answering all the questions. Giving them the opportunity to skip questions can encourage them to complete the survey.
Do a balanced mix of open-ended and closed-ended questions: Open-ended questions can be a great way to get your customers to tell you how they feel, in their own words. However, these questions require more effort and time to answer. Limit open-ended questions to two-three per survey. Try placing them at the end of the survey so that even if the respondents drop off, you'll still have data for the rest of the survey.
Test test test: Nothing hurts more than finding out mistakes in a survey that's already live. Give your survey a quick test run with your colleagues before hitting 'go.'
---
The post The Definitive Guide to eCommerce Surveys (20+ Real Templates) appeared first on Blog.